Welcome readers,
Even though we're still in a pandemic and some people's travel arrangements have been put on hold for the time being, good information on your next trip to a major city/country shouldn't be withheld. With that said I want to share a guide to future tourists on an American city that I live next to and that is Boston Massachusetts. This post will present and explain significant spots to check out during your stay in the city. If you happen to visit this city and don't know where to start, use my guide as a reference so you can check off locations you've visited and what still needs to be explored.
A landmark city such as Boston is rich in history, and even though it's one of the oldest cities in the United States it remains a vibrant and energetic feel that attracts visitors from all over the nation and keeps the natives returning to places they've enjoyed being accustomed to. For me, being from Cambridge it's a quick trip to return to locations that always delivers me with satisfaction. Regarding that, if one were to promote Boston to a tourist, places such as Fenway Park, Faneuil Hall, and Boston Common will most likely have a high level of expectation due to these tourists hearing experiences from others who've visited before. With that said, since the natives of Boston and greater Boston are familiar with the city's offerings, they are aware of the perceived performance of these locations which is usually equal to their expectations. That in turn leads to satisfaction. On the other hand, a newcomer arriving in the city has a higher level of expectation, and if they go to say the Museum of Fine Arts and the perceived performance is higher than their expectations, then this is a state of delight. In closing, those mentioned places are a few I'd like to discuss further when it comes to my favorite things to do in Boston. 
Boston Common – The commons are the oldest city park in America. It's always a pleasure going, especially during the summer because there always seems to be something going on over there. From the freedom trail, the frog pond, and the hill to the statehouse, the commons are relaxing scenery to be at during the summer. 
Faneuil Hall – From, The Quincy Marketplace to the nightlife that surrounds this historic location it's always a pleasure being around there during New Year's night before heading off to catch the fireworks. 
Museum of Science/Fine Arts – Take your pick because you will not be disappointed with your experience in both these establishments. From the electrifying showcases or the captivating and vivid arts, both these museums are locations to check out. 
The New England Aquarium – Drawing more than 1.3 million visitors per year this location has the sea life that inspired films like Finding Nemo and will surely be a vibrant place to visit more than once. 
Boston Freedom Trail – It would not be a trip to Boston without a tour through this iconic pathway that displays prominent landmarks during the Revolutionary War.
Boston Theater District – Located downtown a few streets down from the Boston Common public garden the theater district is one place you won't want to pass up visiting. From plays, live music performances, big-name comedians performing live at the famous Wilbur theater, independent films, and much more can be seen here so don't forget to stop by here on your visit.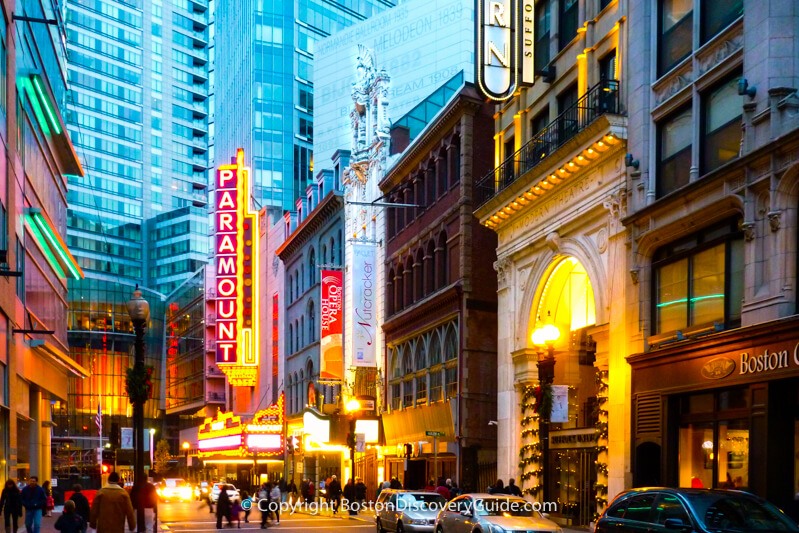 Leave a like and comment if you'd like to chime on your experience in this city if you've visited it. Also don't forget to give my page a follow so you can stay up to date with my future posts. As always peace and keep it real.